PREVIOUS BATHROOM PROJECTS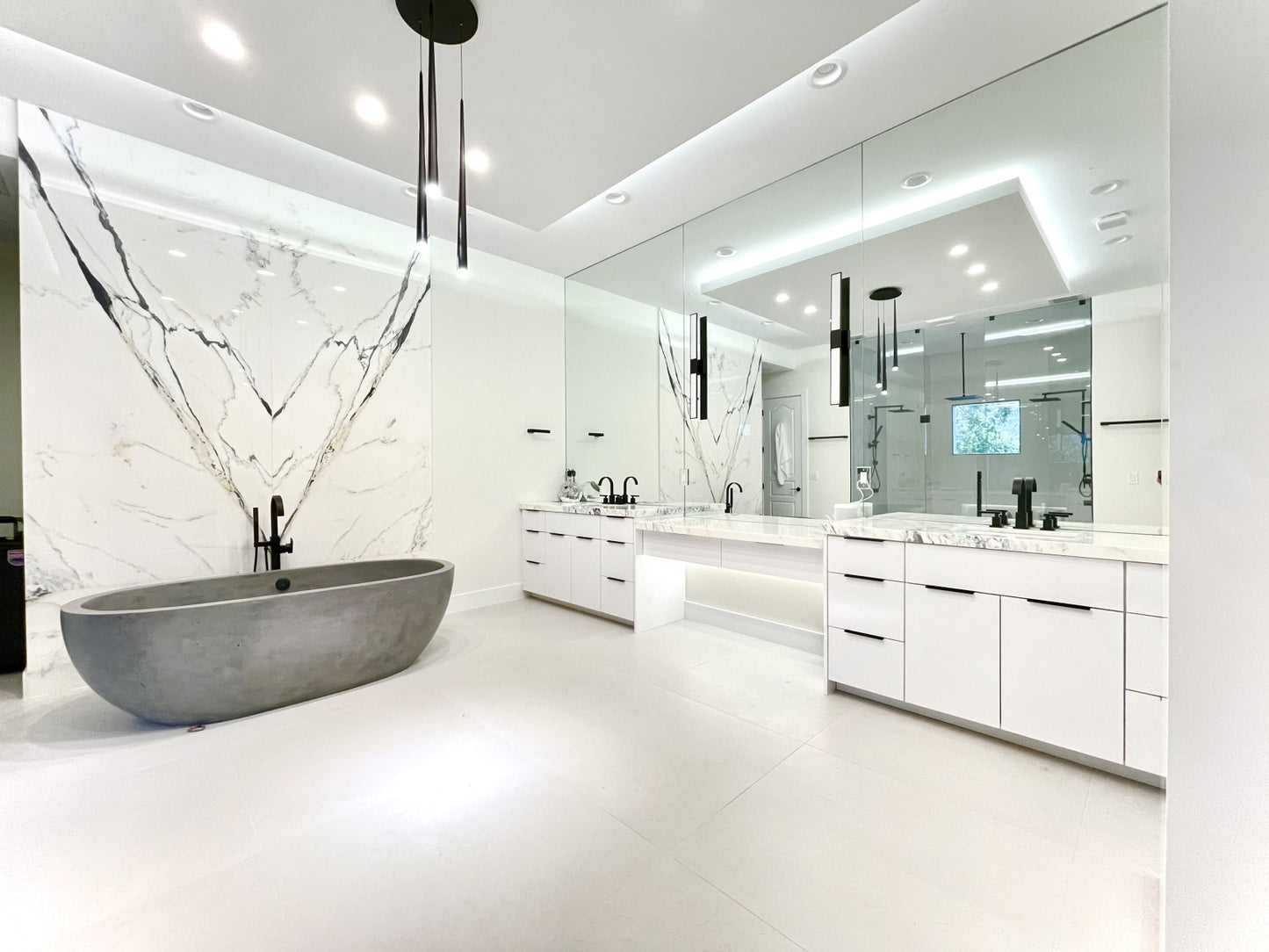 WHY CHOOSE THE FRENCH REFINERY FOR YOUR CUSTOM BATHROOM CABINETRY
The French Refinery has been offering custom cabinetry with attention to detail since the year 2015. We have a hand-picked team of superior craftsmen and we offer the best in bathroom cabinetry with every installation.
With our full-service team of custom cabinet experts, we will ensure that the process of installing custom bathroom cabinets is very easy. The French Refinery will outfit your home with the best bathroom cabinetry designs and help you unlock the true potential of your space. Discover all of the latest trends with our unique bathroom cabinet designs.
TRANSFORM YOUR OUTDATED BATHROOM WITH A CUSTOM BUILD OR REMODEL FROM THE FRENCH REFINERY
Is your kitchen lacking style and functionality? Don't settle for a space that doesn't meet your needs. It's time to revitalize the heart of your Tampa home with a custom bathroom remodel from The French Refinery. We pride ourselves on using only the highest quality products. Our cabinets and finishes are not only beautiful, but they're also built to last. With our expert installation, you can expect a flawless result that will enhance your daily life. Not only will a custom bathroom remodel bring you joy, but it will also add value to your property. Experience the transformation and upgrade your bathroom today with The French Refinery.
WHY SHOULD YOU GET QUALITY BATHROOM CABINETS?
Quality bathroom cabinets are items that are designed to last. Making the choice to upgrade your bathroom cabinets or install custom cabinetry touches is a wonderful way to reduce clutter in the bathroom and cultivate a more designer look. Whether you are a fan of solid wood or you enjoy more bright colors and contemporary designs, new bathroom cabinets can significantly change the style of your bathroom and help you to enjoy better use of your space.
Quality bathroom cabinets are often designed with better fixtures, organizational touches, inspiring designs, and a style that is custom-built for your cabinetry. Coordinating with a professional cabinet designer about the use of these cabinets could have you finally outfitted with the perfect look for your home or a much-needed lift for your bathroom.
TAMPA BATHROOM CABINET DESIGN & INSTALLATION
Sick of struggling with messy and outdated bathroom cabinets? Look no further than The French Refinery. We don't just offer stylish custom cabinets, we provide comprehensive solutions to meet your bathroom's layout, storage, and aesthetic needs. With our professional design services, you can have the bathroom of your dreams.
AREAS WE SERVE
The French Refinery works in the greater Tampa area to offer professional cabinetry estimates and a massive range of professional cabinetry services. If you are in need of a custom cabinet maker in Tampa, Clearwater, Brandon, Largo, Dunedin, Tarpon Springs, Lutz, Riverview, St. Petersburg, Spring Hill, Lakeland or Bradenton get in touch with us.
SCHEDULE YOUR APPOINTMENT
Visit our showroom in Tampa Florida and let our team of talented designers bring your dream to life. Please contact us for an appointment to meet with a designer and discuss your project.