PREVIOUS CUSTOM HOME OFFICE PROJECTS
THE BENEFITS OF A CUSTOM HOME OFFICE
1. Increased Productivity
A well-designed home office can significantly boost your productivity. With a space designed specifically for work, you can minimize distractions, organize your workflow, and create an environment that inspires creativity and focus.
2. Optimized Space Utilization
No matter the size of your room, our designers can optimize the space with clever storage solutions and layout strategies, ensuring you get the most out of your home office.
3. Adds Value to Your Home
A custom home office is a desirable feature that can increase the value of your home. It's an investment that pays off, whether you're planning to stay or sell.
4. Tailored to Your Needs
Our custom home offices are designed to cater to your specific needs. Whether you require ample storage for your documents, a large desk for your projects, or a quiet corner for your video calls, we ensure your workspace suits you perfectly.
The French Refinery Difference
For over two decades, The French Refinery has been transforming homes in Tampa, Florida, with our meticulous craftsmanship and attention to detail. We create custom home offices that are not just workspaces, but personalized sanctuaries of productivity and creativity.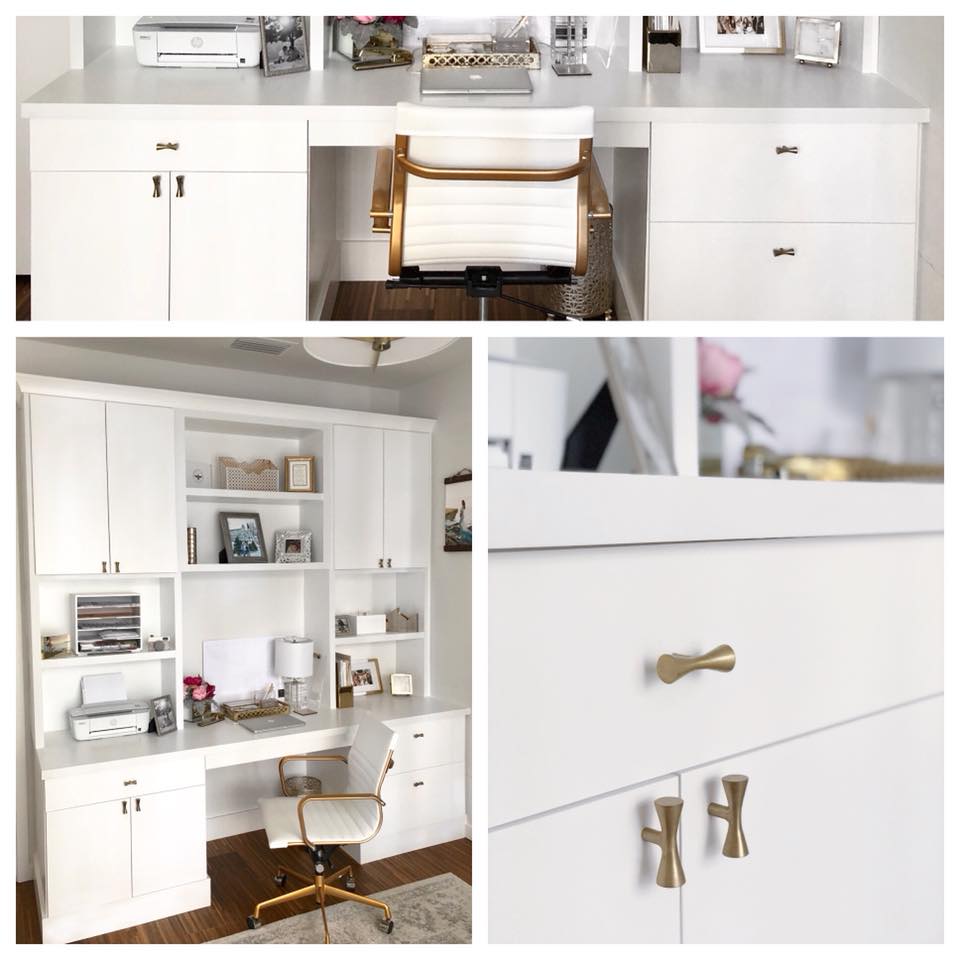 WHY BUILD A CUSTOM HOME OFFICE?
Remote Work
As remote work rises, so does the need for efficient home offices. Our custom home office designs include built-in desks equipped with custom drawers, cabinets, bookshelves, and lighting. If you use multiple monitors or sound systems, our designs incorporate these high-tech features to ensure your remote work experience is as comfortable and productive as possible.
Distance Learning
We design serene, well-lit custom home offices for online learning. Your child can participate in designing their personal workspace, enhancing their homeschooling experience.
Study Stations
Children need dedicated study spaces too. We create vibrant, personalized study stations with adjustable shelves, cubbies, and pull-out keyboard drawers, making homework time organized and enjoyable.
What Our Clients Say
Adam and the team from The French Refinery were on point from the first sketch and measurement, to the day they installed the final handle.
The entire team was professional in EVERY since of the word; performing quality work in a timely manner - all without disturbing the rest of my home.
After building an entire custom home, I can tell you first hand, this level of craftsmanship is extremely hard to come by; leaving me with regret that I didn't meet with them sooner.
Cheers to making our dream entertainment center a reality!
Jonathan Welty
We've used Jordan at The French Refinery for two of our homes. His work is amazing, he is timely and easy to work with. We've referred him to two friends who have also had built-ins installed.
Kim Parrish
These guys are artists! We bought a new home with a large entry room that needed a statement piece. My wife suggested a wine bar and started brainstorming on what it would look like. We gave Adam our concept design (we can't draw well) which he modeled on a computer to come up with the final proposal. This was a complex project with a lot of unusual features that they nailed perfectly. Mike took great care in assembling the unit and you can tell he puts his heart and soul into it. We couldn't be more pleased. If they can do this, they can handle any project.
Drew Nagle
AREAS WE SERVE
The French Refinery works in the greater Tampa area to offer professional cabinetry estimates and a massive range of professional cabinetry services. If you are in need of a custom cabinet maker in Tampa, Clearwater, Brandon, Largo, Dunedin, Tarpon Springs, Lutz, Riverview, St. Petersburg, Spring Hill, Lakeland or Bradenton get in touch with us.
SCHEDULE YOUR APPOINTMENT
Visit our showroom in Tampa Florida and let our team of talented designers bring your dream to life. Please contact us for an appointment to meet with a designer and discuss your project.